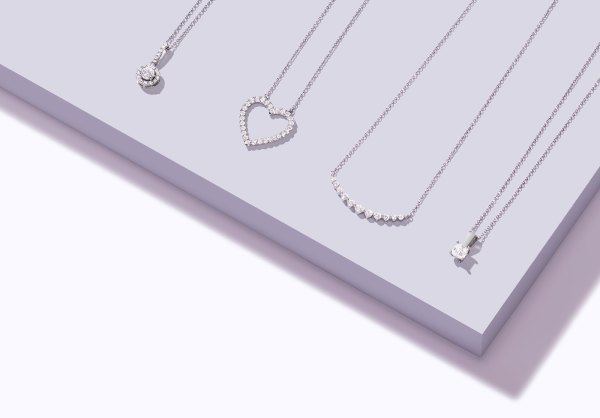 Gold and Diamond Pendant Necklaces
The best of the best quality diamond perfection. Diamond pendant necklaces from Verlas come in a variety of metals and shapes for the perfect statement or complimentary piece no matter the occasion. Shop the full diamond necklace collection below!
Loading All Results...
Featured
Featured
Best selling
Alphabetically, A-Z
Alphabetically, Z-A
Price, low to high
Price, high to low
Date, old to new
Date, new to old
Sort Cancel
Featured
Best selling
Alphabetically, A-Z
Alphabetically, Z-A
Price, low to high
Price, high to low
Date, old to new
Date, new to old
Still unsure?
Try Your Favorites at Home. 
Try up to three pieces for 15 days – no strings attached.
We'll cover shipping both ways.
Learn More
VERLAS CONCIERGE
Can't find your perfect piece?
Let us help you find what you're looking for. Our team of jewelry experts can bring your dream to life.
Contact Us
Find the Perfect Diamond Pendant at Verlas
Your neckline deserves a timeless diamond necklace, and we offer a selection that can help you express yourself while staying luminous. Each diamond pendant is handcrafted in 14K and 18K gold for a durable piece that can last you a lifetime. Our team of female Master Artisans bridge both classic and contemporary styles for iconic essentials that go with everything.
It doesn't matter if you're looking for bold florals or something subtle; we offer a wide range of designs so that you can have more control over your fine jewelry collection. So whether it's for a special occasion or everyday wear, enjoy celebrating yourself with ethically sourced diamonds that can help you shine when you need it most. Pair your diamond pendant necklaces with other Verlas favorites like a classic tennis bracelet or small hoop earrings for a dazzling display.
Shop rings that are handcrafted with ethically sourced diamonds and precious metals.
Your customized kit is absolutely complimentary with free shipping included both ways, always.
Replica Rings come in all colors while replica Earrings and Necklaces come in white metal.
Try-at-Home replica pieces are perfected to look like the real thing. They're all crafted with the same flawless look and feel.
Shop tiny to medium-sized hoops, studs, danglers, and statement earrings.
Create a dainty ensemble.
Make a subtle statement with the daintiest of rings.
Perfectly layer your silhouettes.
Complete your look with versatile designs.
La Fleur Bangle Bracelets - Add some glow to your summer!
La Fleur Bands - Perfect on their own or paired with bangle bracelets.